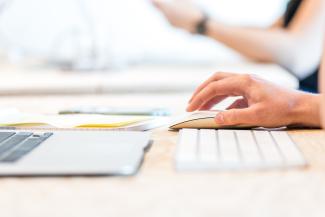 Accelerated Underwriting, E-Applications, and E-Policy Delivery
Technology has revolutionized various processes, and life insurance is no exception. Gone are the days of cumbersome paper-based applications and confusing forms, thanks to the advancements in electronic applications and policy delivery. With the ease of online applications, applicants can securely provide their information and submit it electronically. Furthermore, policies can be delivered digitally as well, eliminating the need for physical copies.
The Insurance Industry has long been known for its intricate and time-consuming application procedures and underwriting processes. However, with the advent of internet-based applications and E-signatures, applying for insurance has become remarkably simple and efficient. Not only is the application process streamlined, but the applicants' private information is also protected and kept secure. Once an application is received by the insurance company, the carrier can expedite the underwriting process by leveraging electronic data searches, such as prescription databases, medical information bureaus, and credit reports. This allows for quicker approvals, often within a matter of days.
For applicants who do not meet the criteria for accelerated underwriting or fall outside the specified parameters, traditional underwriting processes are still employed. Fortunately, technology has also enhanced traditional underwriting methods. Insurance exams and medical records are the primary components of this process. Examiners conducting insurance exams can now use tablets or laptops to complete the necessary paperwork and directly upload it to the exam company. Laboratory results are sent directly to the carrier, and applicants can conveniently access their results online. Electronic Health Records (EHR) can be transmitted much more swiftly than paper medical records, although this depends on the capabilities of the medical facility involved.
Most insurance carriers have transitioned from printing hard copies of Life Insurance Policies to sending them digitally as PDF files. Agents have the flexibility to either print out the policies for hand delivery or utilize electronic signature platforms like DocuSign or the carriers' preferred e-policy delivery programs. Embracing electronic policy delivery saves both time and money by eliminating the need for expensive courier services like FedEx or UPS.
Initially, using these application and delivery technologies may seem daunting and confusing. However, after a few instances, they become much more user-friendly. The reduction of paper usage and improved turnaround times make the adoption of these technologies highly worthwhile. Ultimately, they enhance efficiency, save valuable time, and reduce costs for all parties involved.
---
Securities offered through LPL Financial, Member FINRA/SIPC. Investment advice offered through WCG Wealth Advisors, a registered investment advisor. WCG Wealth Advisors and The Wealth Consulting Group are separate entities from LPL Financial.
The opinions voiced in this material are for general information only and are not intended to provide specific advice or recommendations for any individual. Investing in stock includes numerous specific risks including: the fluctuation of dividend, loss of principal and potential illiquidity of the investment in a falling market. Government bonds and Treasury bills are guaranteed by the US government as to the timely payment of principal and interest and, if held to maturity, offer a fixed rate of return and fixed principal value. Investing involves risk including loss of principle.