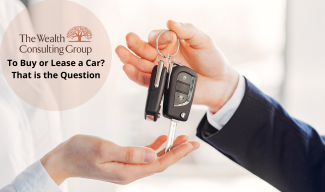 To Buy or Lease a Car? That is the Question
To Buy or Lease a Car? That is the Question
March 1, 2021
Think about how many choices you make each day based on personal preference: shorts versus pants, tennis shoes versus sandals, coffee versus tea.
If only financial choices could be just as simple! One of the most common financial dilemmas people face is whether to buy or lease a car. While some would think the answer would depend on personal preference, there are a lot of pros and cons associated with both options. Below is a list of a few of the pros and cons to think about before moving forward with a decision!

BUYING A CAR
Pros:

No Mileage Limit – If you decide to drive across the country one day on a whim, you are free to do so. Buying a car allows you not to worry about incurring any fees for going over a certain mileage limit.
Eventual Car Ownership – If you choose to finance your car purchase, eventually those payments will end, and the money you were spending can be allocated towards something else!
Freedom to Sell/Trade at Any time – If you own the car, you are not tied to any contracts forcing you to keep it for a certain amount of time.
Ability to Customize Your Car – You want to add a custom paint job or tint your windows? Go for it! You own the car so you can do what you want.

Cons:

Higher Monthly Payments – Purchasing a car usually means you'll be paying higher payments every month
Long Term Maintenance Costs – We all know car maintenance can be unpredictable. Guess what happens once the car's warranty is expired? All maintenance costs are out of pocket.
Depreciates Over Time – Cars, unfortunately, lose value over time. In fact, if you buy brand new, they usually lose value as soon as you drive them off the lot! This can make the resale price unpredictable in the future.
LEASING A CAR
Pros:

Ability to Drive the Latest Models – If driving the latest and greatest is high on your priority list; then this is a huge benefit to leasing a car!
Lower Monthly Costs – Since you are not buying the car, the monthly cost tends to be lower (depending on the type of car you lease).
Usually Has Warranty Protection – Lease terms tend to be 36 months and are protected by a warranty during the entire term.
Lower Upfront Costs – Leasing tends to require little to no down payment and also avoids any sales tax!

Cons:

Mileage Limit Restrictions – Most leases come with annual mileage restrictions (between $10-$15k). So if you get a wild idea to drive through the entire state of CA over a weekend, you might want to think about renting a vehicle so you don't surpass the mileage requirement on your leased car.
Continuous Payments – Unless you decide to purchase the car at the end of the lease, you will return it and start leasing a new car. Meaning the monthly payments are never-ending.
Potential for Excess Fees (Early Lease Termination, Excessive Wear and Tear) – Watch out for additional fees you could incur by not following the lease agreement!
At the end of the day, cars are expensive, and determining whether to buy or lease a car depends a lot on your personal financial situation and driving habits. Whichever option you choose, make sure that you do your research and can fit it into your budget!
As always, please reach out to your trusted advisor with any questions.
---
Securities offered through LPL Financial, Member FINRA/SIPC. Investment advice offered through WCG Wealth Advisors, a registered investment advisor. WCG Wealth Advisors and The Wealth Consulting Group are separate entities from LPL Financial.
The opinions voiced in this material are for general information only and are not intended to provide specific advice or recommendations for any individual. All performance referenced is historical and is no guarantee of future results. All indices are unmanaged and may not be invested directly. All illustrations are hypothetical and are not representative of any specific situation. Your results will vary. The hypothetical rates of return used do not reflect the deduction of fees and charges inherent to investing.
The S&P 500 Index is a capitalization-weighted index of 500 stocks designed to measure the performance of the broad domestic economy through changes in the aggregate market value of 500 stocks representing all major industries.
Investing involves risk including loss of principal. No strategy assures success or protects against loss.